News Highlights
Oregon REALTORS® Crowd the Capitol in Support of Homeownership
+
More than 850 Oregon REALTORS® came together for the annual Oregon Association of REALTORS® (OAR) REALTOR® Day at the Capital in support of legislative policies that protect homeownership and the American dream for all Oregonians. The organization's members are comprised of residential and commercial brokers, managing principal brokers, property managers, and industry affiliates.
During the daylong session REALTORS® heard presentations from the Association's leadership detailing the 2017 legislative agenda and met with Legislators during the luncheon hour to discuss hot topics impacting the real estate industry, including the importance of preserving the Mortgage Interest Deduction (MID) and deductibility of property taxes for Oregon homeowners.
"I am thrilled to see so many of our members in Salem advocating for policies that make homeownership affordable and achievable for more Oregonians," said George Grabenhorst, 2017 OAR President. "The value of homeownership is under attack and its critically important that Legislators hear from people in their local communities today and throughout the entire year."
At the top of OAR's 2017 legislative agenda are the following programs:
• First-time Homebuyers Saving Program: Multiple House and Senate Bills to help first-time homebuyers start saving for their first home.
• House joint memorial (HJM) to address the appraiser shortage: HJM 3 will support changes to minimum appraiser qualifications criteria proposed by the Appraiser Qualifications Board of the Appraisal Foundation.
• Wood Burning Stove Rebate Program & Funding: House Bills 2725 and 2748 will appropriate funds to support a grant program for wood burning stoves and authorize the Residential Solid Fuel Heating Air Quality Improvement Fund to replace solid fuel burning devices.
• Onsite Septic System Repair, Replacement or Upgrade Funding: Senate Bills 812 and 383 to address fixes to the program and appropriate $1.5 million to support low- interest loan programs for on-site septic systems.
This year, OAR is also focused on combating harmful legislation that attempts to balance the state budget on the backs of Oregon homeowners. At the forefront of this discussion are two bills drawing heightened attention across the state—HB 2006, legislation to eliminate the Mortgage Interest Deduction (MID) for many homeowners and HB 2004-A, legislation posing onerous restrictions on landlords. OAR is aggressively working with policy makers to educate them about the dangers of these bills and drive understanding about the impact they could have on homeowners and overall state economy.
The mission of the OAR is to stand up for private property rights and homeownership in Oregon. "We achieve our mission by advocating for legislation and candidates that align with our priorities," said George Grabenhorst. "This year, we are laser-focused on working together with our members and state officials to protect tax benefits for homeowners, fight new schemes to tax homes, and ensure our land use system works for all Oregonians."
Oregon REALTORS® Thanked by Owyhee Basin Stewardship Coalition (OBSC)
+
April 14, 2017 - Salem, OR
Larry Wilson on behalf of the Owyhee Basin Stewardship Coalition, presented the Oregon Association of REALTORS® Board of Directors with an honorarium, thanking them for their early support in the campaign to protect the Owyhee basin from designation as a national monument without a vote of Congress.
In just 10-months, Our Land, Our Voice raised statewide awareness of the monument threat. Building a diverse coalition of business, agriculture, and political leaders, the coalition secured near universal editorial commentary against a presidential monument declaration without a vote of congress.
"Decisions with regard to the future of Eastern Oregon are best made by the generations of families living and making a living in the area along with their elected officials," said Oregon Association of REALTORS® Government Affairs Committee Chairwoman, Vikki Breese-Iverson. "We are delighted the efforts of a broad coalition were successful in preserving the rural way of life for generations to come."
Oregon Association of REALTORS® retuned the gratitude of the OBSC by presenting Mr. Wilson with the Healthy Communities Award "[for their work] in preserving the Owyhee Canyonlands, and protecting the community and economic values of the citizens who live there."
Video Campaigns:
The Real Story of the Owyhee Canyonlands
Oregon REALTORS® Magazine Returns!
+
Protecting your piece of Oregon! The Oregon REALTORS® REAL Shield Magazine will give you practical tools for your business, update you on the real estate industry in Oregon, and provide value in your busy lives. We are thrilled to bring back the Oregon REALTORS® Magazine after its long hiatus.
View/Download the REAL Shield Oregon REALTORS® Magazine 2017 Q1
We will be producing magazines at the end of every quarter. Look for the next one in your mailbox towards the end of June.
Ashland REALTOR® Wins State REALTOR® of the Year
+
April 12, 2017 - Salem, OR
Colin Mullane has been named the 2017 Oregon REALTOR® of the Year. The award, bestowed in Salem on Thursday, April 13 at the REALTOR® of the Year Luncheon, is the highest award granted by the Oregon Association of REALTORS®.
Colin is a member of the Rogue Valley Association of REALTORS® and a Principal Broker at Full Circle Real Estate in Ashland. An Irish transplant, Colin has been a REALTOR® in Oregon since 2000, and has been heavily involved in all levels of the REALTOR® organization at local, state and national levels.
Serving as a member and chair of numerous committees, work groups, and task forces for the Southern Oregon MLS, Rogue Valley Association of REALTORS®, and Oregon Association of REALTORS® for years, Colin also served as the 2015 OAR President and has been on the OAR Board of Directors since 2016. In 2010, he received the Rogue Valley Association of REALTORS®' REALTOR® of the Year award and the local REALTOR® Image Award in 2009.
For the past few years, Colin has become highly involved at the national level and has served on several committees and will become the Region Vice President for the National Association of REALTORS®' (NAR) Region 12, comprising of Oregon, Washington, Idaho, Montana, and Alaska.
Colin is committed to professional development and has received multiple designations and certifications – Accredited Buyer's Representative®, Certified International Property Specialist, NAR's Green Designation, EA Broker, and At Home With Diversity®. In addition to professional development, Colin has been a REALTORS® Political Action Committee Major Investor since 2013.
At every level, Colin Mullane is passionate about the real estate industry and is an exemplary model for Oregon REALTORS®. Colin Mullane is the Oregon REALTOR® of the Year for his outstanding service to all REALTOR® organizations, the real estate profession, and his community.
HOME Foundation surpasses $1 million mark!
+
With the recent announcement of grants totaling $179,796 to be distributed in 2017, the Oregon Association of REALTORS® HOME Foundation has surpassed $1 million in financial assistance statewide to help Oregonians in need realize the American Dream of owning a home.
The HOME Foundation — Home Ownership Made Easier — was established by OAR in 2004 as a way for Oregon REALTOR® members to give back to their communities.
"We are proud to hit this significant milestone," said OAR President George Grabenhorst. "Despite their best efforts, far too many people in today's workforce still can't afford the American Dream. We understand that homes stabilize families, and we want that to be achievable for more Oregonians."
Over the past dozen years, the Foundation has grown from giving $12,000 in its first year to over $165,000 in each of the past two years. The total dispersed now stands at $1,107,795. Amongst many organizations, Habitat for Humanity chapters across the state have been frequent recipients of OAR HOME Foundation grants.
"We are delighted to celebrate this important milestone with the OAR HOME Foundation," said Shannon Vilhauer, Executive Director of Habitat of Humanity of Oregon. "Today Habitat for Humanity is hard at work building and repairing homes in 30 communities across our state. Oregon REALTORS® serve as Habitat for Humanity board members, secure key donations and help build homes. We are truly grateful for their partnership and support."
The HOME Foundation is funded by individual donations from Oregon REALTOR® members statewide as well as through annual flagship events such as the Driving It HOME golf tournament in July and The Taste of Portland in September. Additionally, events held in local communities, such as the Rogue Valley Association of REALTORS® Food & Wine Classic every March, raise money that stays in their local areas.
Oregon's Pat Kaplan wins coveted NAR Distinguished Service Award
+
Portland REALTOR® Pat Kaplan has received the National Association of REALTORS® 2016 Distinguished Service Award. The honor is presented yearly to no more than two of NAR's more than 1.2 million members. Kaplan, a REALTOR® for 36 years and current broker-owner of Kaplan Real Estate Group, was recognized at the recent NAR National Conference & Expo in Orlando.
NAR established the DSA in 1979 to honor REALTORS® who have made outstanding contributions to the real estate industry and who serve as leaders in their local communities. The award is considered the highest honor an NAR member can receive; recipients must be active at the local, state and national association levels but must not have served as NAR president. NAR President Tom Salomone presented the award to Kaplan.
"Pat Kaplan has been a leader in the REALTOR® community for decades. On the local, state and national level, Pat's commitment and professionalism make her an obvious selection for the Distinguished Service Award," said Salomone, broker-owner of Real Estate II Inc. in Coral Springs, Florida. "On behalf of the entire REALTOR® family, I thank Pat for her inspiring dedication."
Kaplan, a REALTOR® for 36 years, is broker-owner of Kaplan Real Estate Group, specializing in residential real estate and consulting. She holds the professional designations of Graduate, REALTOR® Institute; GREEN; Certified International Property Specialist; Certified Real Estate Brokerage Manager; as well as the e-PRO and At Home with Diversity certifications.
"I am very honored and thankful to NAR for being named a recipient of the Distinguished Service Award. I am proud of be a part of an organization that honors members for giving back to their communities and protecting the rights and privileges of real property ownership," said Kaplan.
An active NAR member, Kaplan has held many leadership positions throughout the REALTOR® organization during her nearly four-decade tenure, including serving as the NAR treasurer from 2001 to 2003, a president's liaison in 2000, vice president of committees in 2004, and regional vice president for Alaska, Idaho, Montana, Oregon and Washington in 1999. She has served on NAR's Board of Directors since 1993, and currently serves on an advisory group for the REALTORS® Federal Credit Union (a division of Northwest Federal Credit Union since 2012), on the Second Century Initiatives board since 2010 and the Sentrilock LLC Board of Directors since 2014.
Kaplan chaired the Finance Committee and Smart Growth Program Advisory Group, as well as held leadership roles on a variety of committees, including Strategic Planning, Risk Management, State and Municipal Legislation, Communications and Political Affairs. She chaired presidential advisory groups on NAR Governance in 1997 and Global in 2014. Kaplan served as the first president of the REALTOR® Relief Foundation from 2001 to 2006 and continued on its board until 2008. She is a member of the Realtors® Political Action Committee Hall of Fame, President's Circle and a Golden R.
At the state level, Kaplan was awarded the Distinguished Service Award by the Oregon Association of REALTORS® in 2012. She was president of OAR in 1996 and the first ever to be honored as REALTOR® of the Year while serving as president. Known for her political activism, Kaplan chaired OAR's Legislative Committee for four years, and chaired the Budget and Finance, Strategic Planning and Executive Committees. Kaplan was the first recipient of OAR's REALTORS® Active in Politics award. She continues to serve on the OAR Board of Directors.
At the local level, Kaplan served as the Washington County Association of REALTORS® president in 1991, was named REALTOR® of the Year in 1993, and served on its board for more than 10 years, including chairing the Budget and Finance, Strategic Planning, Nominating, REALTOR® of the Year and RPAC committees. She was given the Distinguished Service Award in 1994. Today, Kaplan continues service on several key Portland Metropolitan Association of REALTORS® committees, as well as serving as a mediator for Professional Standards. Kaplan has served as director of the REALTOR® Multiple Listing Service since 2013.
Active in her community, Kaplan was involved in the Oregon Fair Housing Planning Conference from 1992 to 1994 and served on two state advisory committees: History of Housing Discrimination in Oregon and Oregon Comprehensive Housing Affordability Study Group. Kaplan has volunteered for Habitat for Humanity, Boys and Girls Club, Catlin Gable School, Oregon Ballet Theatre, Portland Community College Foundation, Campfire Girls, World Affairs Council, and also served on the board of the Oregon Junior Miss Scholarship Program. She is currently on the board of the International Real Property Foundation and is a partner in the Social Venture Partners of Portland philanthropy.
Kaplan and her husband, Joel, reside in Portland. They have two children.
Election Wrap-Up: A very good night for Oregon REALTORS ®
+
By any measure, the Nov. 8 General Election was wildly successful for the Oregon Association of REALTORS®. We were on the winning side of Oregon's most expensive ballot initiative ever, and OAR-endorsed candidates won election at a 95 percent clip — including placing a second Oregon REALTOR® in the House.
"This election season included a lot of long meetings for our committees, but it paid off big time for our advocacy," said OAR Government Affairs Director Shawn Cleave. "We rightly adjusted our strategy in September, and it was the right thing to do and paid off nicely! A big thank you to RPAC Chairperson George Perkins and the entire committee."
Here are some election highlights:
OAR was a large contributor to the No on 97 campaign, and the hotly contested Measure 97 — a business tax increase — ultimately failed by a 59 to 41 percent margin. That's the good news. The flip side is that we can now expect a full scale assault on the home mortgage deduction during the 2017 Oregon Legislature; we will begin readying for that battle immediately.
OAR-endorsed candidates for the Legislature won at a rate of 95 percent. Out of the 60 legislative races where OAR made an endorsement, our candidate won 57 of those contests. The most exciting: Oregon REALTOR® Mark Meek won election to House District 40, which includes Oregon City, Gladstone, Jennings Lodge and portions of unincorporated Clackamas County. Meek, a Democrat, joins veteran legislator and fellow REALTOR® Rep. Sal Esquivel (R-Medford), who easily won re-election to another term in Southern Oregon.
One of the tightest races is Oregon Senate District 5, which stretches along the Oregon Coast from Coos Bay up past Lincoln City. The most recent numbers show incumbent Sen. Arnie Roblan, who drew OAR's support, with 29,931 votes. Challenger Dick Anderson has 29,637, a difference of 294. The wild card in that race is Libertarian Dan Souza, who garnered 2,495 votes, way more than enough to significantly impact the Roblan-Anderson result.
Our numbers will go up to 58 out of 60 (96.7 percent) if former Ashland mayor Alan DeBoer holds onto his slim lead in Senate District 3, which came open when Sen. Alan Bates (D-Ashland) unexpectedly passed away in August. DeBoer, a Republican, leads by 535 votes with about 1,000 yet to count at this writing. Assuming he holds on, his win will be significant in the overall picture (see below).
Though some of the names have changed, when all the dust settled it is still a 35-25 majority for Democrats in the Oregon House, the same as the past two years. It takes 36 for a super-majority in the House. Should DeBoer gain election to the Senate, that seat-flip will narrow the Democrats' majority in the upper chamber from 18-12 to 17-13, so the Oregon Senate will also be one vote short of a super-majority.
Meek, Esquivel win election to Oregon House
+
When the 2017 Oregon Legislature convenes in February, there will be another Oregon REALTOR® in the house — the House of Representatives. Democrat Mark Meek has handily won election to House District 40, which includes Oregon City, Gladstone, Jennings Lodge and portions of unincorporated Clackamas County. Meek will join veteran legislator Sal Esquivel (R-Medford) as the second REALTOR® in the state assembly.
"I'm very excited about this opportunity to serve, and excited to join Rep. Esquivel representing REALTOR® interests in the Legislature," said Meek. "I think my record of local community outreach really paved the way to my election. From coaching youth sports, from my church, from my business and from my participation on a wide number of local boards and commissions, people knew me and felt they could trust me."
Meek estimates he knocked on 8,000 doors himself, and volunteers pushed his overall number to 24,000. Meek says his doorstep pitch for election encompassed REALTOR® values.
"I talked about the need for education, including technical and skill training," he says. "That translates to people having family wage jobs, which in turn leads to achieving the American Dream — owning a home and investing in your local community.
"I'm anxious to get started on this new venture, and I couldn't have done it without the support of my 'team' — my many volunteers and great organizations such as the Oregon Association of REALTORS®."
Esquivel easily won re-election to his seventh term in Medford-based House District 6.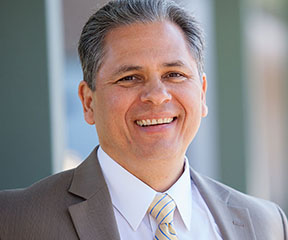 George Grabenhorst has been installed as the President of the Oregon Association of REALTORS® for 2017
+
Salem native and fourth generation Realtor® George Grabenhorst has been installed as the President of the Oregon Association of REALTORS® for 2017. His term of office officially commences on Nov. 8, the day after the annual National Association of Realtors® convention adjourns.
Grabenhorst has been in the real estate business for 28 years. Most recently he is a Senior Advisor with SVN Commercial Advisors in Salem. Prior to that Grabenhorst owned and operated Grabenhorst & Associates (previously Grabenhorst Bros.) for many years. The family real estate business first opened in Salem in 1910.
Grabenhorst is a two-time Past President of the Salem Association of Realtors® and a two-time Salem Realtor® of the Year. He has been active with the statewide Oregon Association of REALTORS® for many years, serving on numerous committees and boards.
"I like to be busy," says Grabenhorst. "I feel I'm more productive the busier I am.
"My goal for my year as President of OAR is to simply help find ways for us to be better professionals at what we do," Grabenhorst continued. "In that regard, I'd like to see us increase the educational requirements for both principal brokers and first-time agents. Those require legislative action, and we'll work on that during the 2017 session."
Grabenhorst's installation, at the recent OAR Convention in Sunriver, was a family affair and continues a unique family tradition. He was formally installed by his daughter, Alisha Rae Grabenhorst. His uncle, Coburn Grabenhorst, was the OAR President in 1957. The two Grabenhorsts are believed to be the only two primarily commercial brokers to attain the OAR presidency.
Grabenhorst replaces Debra Gisriel of the Klamath County Association of Realtors®, who remains on the OAR Executive Committee as Immediate Past President. Steve Strode of the Portland Metropolitan Association of Realtors® is the 2018 President-Elect and will succeed Grabenhorst in 12 months.
Grabenhorst lives on the 110-acre family farm in South Salem he grew up on with his wife, Sunny Lyons. He specializes in land, industrial, commercial and agricultural properties. Away from the office he works on the farm, raises horses, is an avid outdoorsman, model airplane builder, golfer and has a passion for U.S. history.
Eugene REALTOR® Jeremy Starr has been named recipient of the 2016 Distinguished Service Award by the Oregon Association of REALTORS®
+
Eugene Realtor® Jeremy Starr has been named recipient of the 2016 Distinguished Service Award by the Oregon Association of REALTORS®. The award was announced at the recent OAR statewide convention in Sunriver.
Starr, a Realtor® for over 25 years, is the broker/owner of John L. Scott Real Estate in Eugene, specializing in residential property and building development. The OAR's Distinguished Service Award recognizes Starr's over 30 years of leadership and volunteerism in both the real estate industry and the community.
"This means a lot to me," said Starr. "It's a wonderful honor. I've always been surrounded by good people, and this is a reflection on them as well."
Starr is a past president of OAR (2006) and was the Oregon Association's REALTOR® of the Year in 2008. He has served on the National Association of REALTORS® Board of Directors numerous times. Locally, Starr has served as President of the Eugene Association of REALTORS® and was its Realtor® of the Year in 1995. He has also served on a variety of community groups, including the Eugene-Springfield Metro Partnership, Willamette Valley Services and the Marist School Board. Starr is also widely known as a devout Oregon Duck sports fan. He's married with two adult children.
In receiving the award, Starr encouraged others to volunteer within their profession and in their communities.
"The opportunity to give back is a gift," he said. "Embrace it."
Prepare Members to Claim .REALTOR Domains
+
NAR will begin offering .REALTOR domains on Oct. 23 at 11 a.m. Eastern Time.
To proceed, agents will need their NRDS ID number, a credit card and ideas for the domain names they'd like to claim. Remember, multi-year and multi-domain discounts are available. More information.
COE vs. LARRC
+
Are you as confused as us? What's mandatory every 2 years? 4 years? CE credit?
The Code of Ethics is required to maintain your REALTOR® membership every 4 years. We are currently in the 2013-2016 quadrennial period. The Code of Ethics is offered for FREE online through NAR, but it does not count for CE credit if you elect to take it that way. If you would like to "double-dip" and potentially receive CE credit while fulfilling the Code of Ethics requirement, you will have to take it through a certified CE provider in Oregon. Read more about it here >>
The Law & Rule Required Course is required every two years by the Oregon Real Estate Agency to renew your real estate licensee.
OAR & OREA: What's the Difference?
+
We're two separate organizations! Who handles licensing? Where do I pay my dues?
The Oregon Association of REALTORS® (OAR) is your professional trade association. Here is a break-down of who we are – Resources, Education, Advocacy, & Legal. Holding a real estate broker's license does not make someone a REALTOR®. The main thing that distinguishes a REALTOR® from someone who's merely licensed by the state to sell real estate is the REALTOR® Code of Ethics which requires REALTORS® to put their clients' interests first at all times. Becoming an Oregon REALTOR® means you're someone who is committed to continuing education, professionalism, and integrity.
The Oregon Real Estate Agency (OREA) is the department of State government whose purpose is to provide quality protection for Oregon consumers of real estate, escrow, and land development services, balanced with a professional environment conducive to a healthy real estate market. Your primary interaction with the Agency will be to get your initial license and then renew it every two years. The Agency's other responsibilities, administered by the Real Estate Commissioner, include:
Licensing and regulation of:
Real estate brokers, principal brokers, and property managers
Escrow and escrow agents
Real estate marketing organizations
Examination and education for brokers, principal brokers, and property managers
Course oversight of Agency-certified Oregon real estate education providers
Monitoring regulated activities in escrow organizations and real estate offices
Conducting investigations and hearings when complaints are filed against licensees, registrants, and real property developers