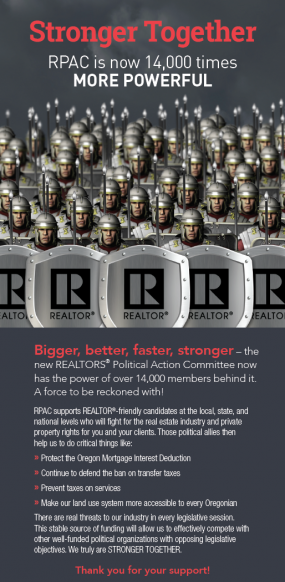 The Value of RPAC
RPAC BENEFITS YOU AND YOUR CLIENTS:
REALTORS® defeated the following legislative threats this past year that target your business and homeowners:
Stopped Unfair Double Taxes - With the passage of Measure 79, Oregon REALTORS® stopped local and state efforts to impose real estate transfer taxes on homeowners, now and in the future, without voter approval. A 1.78% tax at the point of sale1

would have cost buyers and sellers approximately $3,524 at median sales price

2

.
Total Homeowner Savings: $3,524
Protected the Full Value of The Home Mortgage Interest Deduction - REALTORS® successfully protected the Mortgage Interest Deduction (MID) at the state and national level from political attempts to limit this critical tax deduction for homeowners. This helped save homeowners (claiming both the mortgage interest and property tax deductions) approximately $3,000 in state and federal taxes3.
Total Homeowner Savings: $3,000
Stopped Energy Performance Scores - In the 2013 Legislative Session, the Oregon Association of REALTORS® defeated efforts to require mandatory "Energy Performance Scores" at the point of sale on all real estate transactions. This new restriction would have added a new financial burden on sellers by requiring a $500 energy audit before placing their house on the market.
Total Homeowner Savings: $5005
1 Clark County, Washington – Excise Tax Rate
2 Zillow Home Value index, Oregon Home Prices and Home Values - $198,000
3 National Association of REALTORS®
4 House Bill 2793, 2013 Legislative Session
5 Oregon Task Force on Energy Performance Scores; Report to the Oregon Legislative Assembly, September 2010

Stronger Together Image: click here for a downloadable PDF »